Take a look at my nightmare — my dark secret that I'm mortified to show you.
Yes, it's a water stain on the seat of a rather pricy antique chair. My scarlet letter of shame.
Below, we're looking at a Victorian Renaissance Revival Chair with an Eastlake influence. Built of gorgeous walnut wood, this chair was manufactured around 1870-80.
Generally I'm cautious about painting antiques. If I do, I undergo a bit of intense self-examination:
Does it have sentimental value?
Is the piece tight, with no wobble?
What kind of wood was used?
How much structural repair is needed?
Does the wood have minimal scratches, dings, dents?
Does the fabric enhance the piece?
Will paint make the piece more appealing in a contemporary home?
My initial, and now silly, problems lay with the fabric and heavy feel to the wood. The fabric was OK but not great and my lackluster upholstery skills deterred me from tackling a project like this.
Other options? I could paint the entire chair using Annie Sloan's Old Ochre.
I stirred the paint, measured some out, and cut it with water. Then I grabbed my spray bottle and filled it with water. I've discovered that spraying the fabric will help the material absorb the paint instead of allowing it to just sit on top.
The chair looked much better with the fabric painted — and the texture still came through. The photo below shows only 1 coat; I painted 2 coats.
I worked outside in the shade of our 10×10 tent, noiselessly painting the wood Old Ochre. I can't remember the reason now, but I had to run a errand. I debated lugging the chair into the house but it's so heavy and unwieldy. Instead, I pushed it into the center of the tent and took off. I'd be quick.
Rain. A sudden afternoon downpour, so common in Florida summers, over as quickly as it began.
Upon my return I leapt from the car and sprinted (actually more of a jog) to the tent. The damage was already done. Horrified, I stared down at the water stain on the chair's seat. Towels. My first thought was towels. Maybe with enough towels I could blot the water and limit the damage. If only it were that easy.
I paused to send photos of the stain to Pat Stone-Smith, my Annie Sloan Chalk Paint (ASCP) stockiest at Mid-Life Crisis by the Beach. She, in turn, carried my desperate questions to the national ASCP reps. They advised
setting the chair out in the sun to dry (this was the easy part);
buying a can of Kilz and spray it on the stained fabric.
As long as I'm sharing my mistakes, here's another: Since I'd never heard of Kilz, I phoned those nice folks and asked which of their varieties I should purchase. "We don't guarantee it will work on fabric, so we advise you not to use it." Oh. Better listen to the experts.
The chair dried quickly but I didn't touch it for weeks. David finally brushed shellac on the seat cushion, assuring me the paint wouldn't penetrate. Still I waited, sorrowful.
One bright day I mobilized. I mixed a half-and-half solution of Old Ochre and water. After 2 coats I could still see the water stain. Argh.
As I became increasingly desperate and perhaps a bit unhinged, David bought a can of Kilz. We put plastic and newspaper all over the chair, everywhere except the seat cushion. Then we sprayed a white covering on the Old Ochre and, mercifully, the water stain disappeared. The Kilz created a a white hide but eliminated the stain. I waited several more days.
I put 2 coats of Old Ochre and water on the cushion (4:1 Old Ochre to water) and studied it closely.
I was back in business, as you can see:
Out came my stencil. I spooned out a little Louis Blue into a container; next to that I doled out some Aubusson Blue. I didn't mix the paints. I simply dabbed my stencil brush into Louis Blue, followed by Aubusson Blue (or vice versa), offloaded the paint on a paper toweling, and stenciled.
I waxed the entire chair with Annie Sloan Clear Wax. I lightly applied Dark Wax to the carved areas and, although I generally don't distress, I gently took several swipes . Here it is in the dappled morning light; the sunlight's causing a few uneven splotches.
Originally I intended to put him in our booth at Avonlea Antiques and Design Gallery but we've both been through a lot, Chair and I. I am keeping this beautiful boy in my living room so I can watch how well the paint, wax, and Kilz interact together. So, all is well.
We love your comments. Do you have any tales of terror with your own projects? Please don't hesitate to share!
Ann Marie and David
Featured at: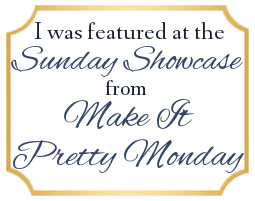 Participating in: